LNG/CNG Refueling Station | Sanya
Refueling Station in Sanya City, Hainan Province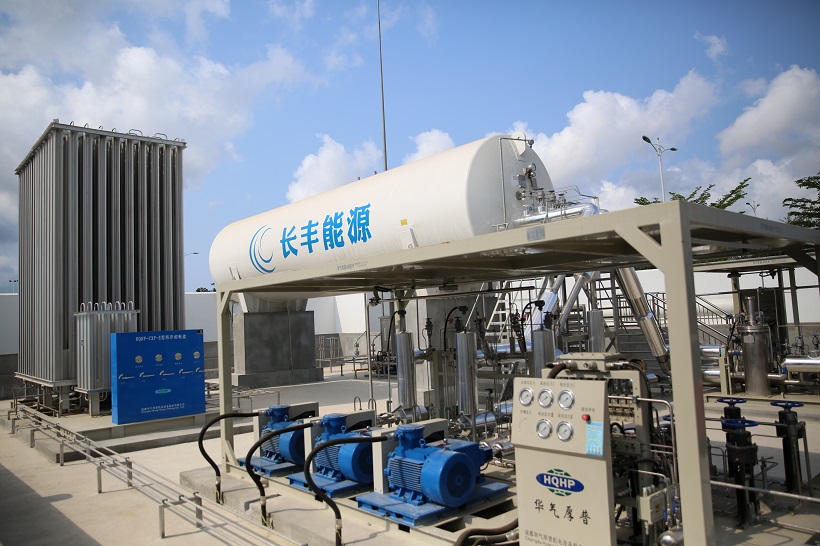 Project Overview
§ Company name: Sanya Changfeng Clean Energy, Co, Ltd., a wholly owned subsidiary of Changfeng Energy Inc. ("Changfeng")
§ Date of establishment: January 25, 2016
§ Registered capital: RMB$10 million
§ Main business: Clean energy supply in Sanya City of Hainan Province
§ Operating Condition: At present, a LNG/L-CNG natural gas station construction completed with a daily gas sales volume of 25,000 m3.
Market size
There are more than 200 buses fueled with natural gas and more than 2,000 taxies fueled with natural gas in operation in Sanya City.
Business Profile
Sanya Changfeng Clean Energy Co., Ltd., a wholly owned subsidiary of Changfeng, commenced its gas refueling station operation in Sanya natural gas market since 2016, and obtained the refueling natural gas services permit from the municipal government of Sanya. In May 2016, the company built its first gas station and started retail business. The design capacity of the station is 30,000 square meters per day, and the scale and construction level are in the forefront of Hainan Province. Sanya City's Luobi Cave Refueling Station is currently the first gas station in Hainan Province to be rated as "Grade A". The gas supply capacity and scale are also the largest in Hainan Province.
Growth Highlights
Sanya Changfeng Clean Energy Co., Ltd.has signed the supply agreement with China National Offshore Oil Corporation and PetroChina Company Limited to ensure sufficient natural gas supply for consumers. Meanwhile, we will cooperate with Sanya Public TransportationGroup (the "Group") to guarantee the group vehicles are filled with natural gas.
Currently, Sanya Changfeng Clean Energy Company is actively exploring the market and striving to build a comprehensive station in a suitable location. Expanding the territory In the use of clean energy.